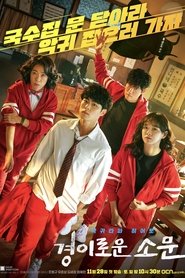 The Uncanny Counter 2020
Nonton The Uncanny Counter 2020, Bercerita tentang grup pemburu hantu bernama Counter. Mereka turun ke Bumi dan menyamar sebagai karyawan restoran mie untuk menangkap roh jahat yang kembali ke Bumi untuk mencari hidup yang abadi.
So Moon (Jo Byung Gyu) adalah anggota termuda dalam grup ini. Setelah mengalami kecelakaan mobil misterius di masa kecil, ia menjadi tokoh sentral di antara anggota Counter yang lain.
Sementara Do Ha Na (Kim Se Jung) adalah seorang gadis dengan kemampuan khusus, yaitu melacak lokasi roh jahat meski jaraknya hingga ratusan kilometer.
Ia juga mampu membaca memori orang lain hanya dengan sentuhan. Keduanya bekerja sama untuk mengusir para roh jahat.
Ketiga anggota Counter yang lain adalah Ga Mo Tak (Yoo Jong Sang), si pemilik kekuatan luar biasa.
Ia dulunya merupakan anggota kepolisian yang kehilangan ingatan tujuh tahun sebelumnya dalam sebuah kecelakaan dan tidak bisa tinggal diam melihat ketidakadilan di hadapannya. Ga Mo Tak juga menjadi mentor So Moon.
Di sisi lain ada Chu Mae Ok (Yeom Hye Ran), anggota Counter yang punya kemampuan menyembuhkan.
Ia menyamar sebagai chef di restoran mie tempat mereka bekerja, namun di antara para Counter, ia berperan sebagai penjaga keseimbangan emosi.
Terakhir ada Choi Jang Mool (Ahn Suk Hwan) yang merupakan anggota tertua Counter. Ia bertanggung jawab pada semua pengeluaran grup dan merupakan legenda hidup dari semua Counter yang ada di Korea.
Views: 70932
Genre: Complete, Drama, Drama Korea, Trending TV Series,
Actors: Ahn Suk-hwan, Cho Byeong-kyu, Kim Se-jeong, Mun Suk, Yu Jun-sang, Yum Hye-ran
Studio: Neo Entertainment, Studio Dragon